H O W A R D S E N D 1 9 9 2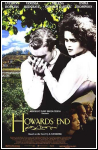 x Emma Thompson as : Margareth Schlegel
x Directed by : James Ivory
x Written by : Ruth Prawer Jhabvala / E.M Forster [novel]
x Main cast :Anthony Hopkins, Helena Bonham Carter, Vanessa Redgrave,




x The Story : Two sisters have encounters with a wealthy family. The younger sister (Carter) is rejected by the son of the wealthy family. The older sister (Thompson) becomes a good friend of the wealthy mother, whose most cherished possession is their cottage at Howard's End, and wishes fervently that Thompson could live there, as they are kindred spirits. Over the course of years, the older sister marries into the wealthy family, and the family tries to keep her from taking possession of Howard's End.


x Takes on Emma" Emma Thompson is superb in the central role: quiet, ironic, observant, with steel inside.
---- Robert Ebert @suntimes.com

" Thompson is thrilling in a performance that ranks her with the best actresses of her generation. Nothing in Thompson's previous film work -- the light-comic Tall Guy and Dead Again -- prepares us for the depth of feeling she brings to Margaret. Growing less verbal and more reflective, she absorbs betrayals, initiates change and creates the balance necessary for the warring factions around her to achieve a hard-won harmony. "
---- Peter Travers @rollingstone.com
x Related Links: